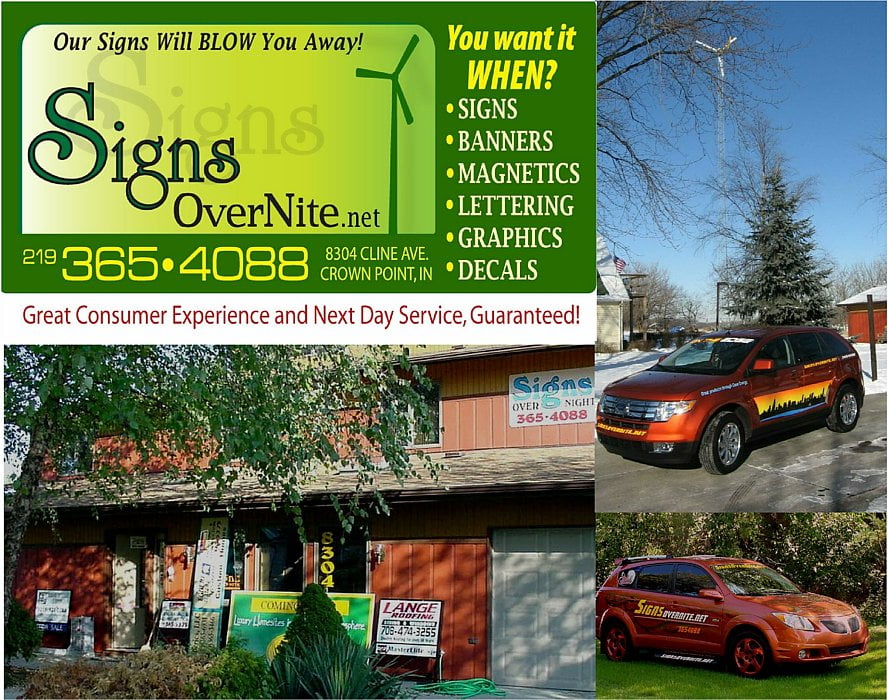 We are a Home Based, Family Run, Sign Shop located in Crown Point, Indiana. Serving our local community for Over 45 Years. Website sales began in 2001 and we have filled over 600,000 orders to present date.
We installed a Bergey 10K Wind turbine in our back yard that generates power to run the sign and sticker shop. We are helping to save our planet "One Sticker at a time" Thank you for your support!
Signs OverNite, Inc is the parent company of www.TheStickerBoy.com Here is a list of all of our websites, each focuses on the different products we offer, from vinyl lettering for trucks and trailers, windows and doors, Yard Signs to Billboards, Banners and Flags, See how we can make you shine! (Chrome Letters and Emblems too!) Thank you for your time.
All orders ship USPS the next business day!
Disclaimer: Some logos and graphics on our web site are the trademarks or registered trademarks of their respective companies. They are provided as a convenience only for their lawful use. Any unauthorized use of these items by the purchaser shall be the sole responsibility of the purchaser. By purchasing these logos, you are indicating that you have authority and permission to use the logo or trademark. Please Note… our 7 inch and 11 inch Decal Designs that are circular or square in proportion are cut smaller to fit in the 6×9 or 9×12 stay flat shipping envelopes, while the larger sizes (14, 18, 22 and 28 inch) are cut/printed full size then rolled up and shipped in rigid triangular mailing tubes. Some of our full color images may become slightly pixelated when enlarged to the 22 and 28 inch size. And finally, Some of our Die cut decals are shown on a black square that represents your tinted car window. The actual decal is the white part of the image. All of our decals and stickers are custom made per order. There are no refunds, exchanges, or returns on our decals and stickers, all sales are final. Our decals make a perfect gift for any occasion!